This section affords the opportunity for philatelic sharing of resources. It will house accredited research projects, presentations, monographs, exhibits, etc. Sharing of information and advancing knowledge of the postal history of New York State by means of educational and historical research is a key tenant of the Society. Contact Charles J. DiComo, Ph.D if you have something to share.
For Your Reading Pleasure
Postal Stories of the Empire State, A historical catalog of postal history documents.

New York State Post Office Extant By County & Year 1792-1969, 1980 Edition Edited by Chester E. Wilcox, 2008 Edition Edited by Lawrence J. Laliberte, Published by Empire State Postal History Society, 1980/2008.

Postal Markings Of Ithaca New York, by Robert A. Hutchison, Parts 1 & 2, Supplement to the Bulletin, Published by Empire State Postal History Society, August 1978.

History of the Post Office, Rockville Centre: 1849-2019, kindly provided by Richard Stahl, 2019.

The Beginnings of the Rockville Centre P.O. 1848 & Listing of Veterans, kindly provided by Richard Stahl, 2019.
---
From Camp Monterrey Mexico to Newburgh, NY – 1846
It is my pleasure to share a recent NY-related postal history find. I presented the 9 page mini-exhibit (PDF below) to the 100+ members and guests of the Philatelic Society of Lancaster County (PSLC) on November 9, 2016. This item has also written up and published in the September 2019 issue of the
Excelsior!
,
HERE
. This article took home a Large Vermeil at the 2020 SESCAL (Stamp Exhibition of Southern California) First Annual Literature Exhibition of Philatelic Articles.
It is a folded letter written by Inspector General Colonel William G. Belknap to his wife Kate dated September 24, 1846 while he was at Camp Monterrey during the last days of the Battle of Monterrey during the Mexican-American War. He vividly describes the battles, his fellow officers by name killed or wounded in action, as well as General Worth's heroism in taking the Town with limited losses.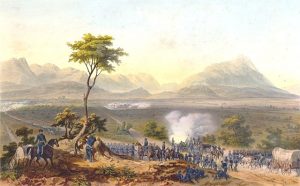 The letter was sent to the provisional P.O. at Point Isabel, TX and cancelled with the scarce Type 1 handstamp, dated Oct. 4. From there it traveled via military transport vessel to New Orleans, LA and then sailed up to New York, where it was cancelled with a red Oct. 21-dated Newburgh circular date stamp (CDS). His wife had moved, so the folded letter was forwarded to Princeton, NJ. Total rate due upon arrival for the nearly one month journey was 15 cents.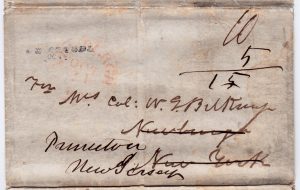 Battle of Monterrey, Mexico 1846
There are less than 10 known of this Point Isabel provisional Post Office Type 1 handstamp, being used from 16 Sept – 22 Oct, 1846. A great piece of American postal military history. (A special thanks goes to my daughter Mia for helping me transcribe the letter!)
---
Informational
The map below was created about 1835 and shows the Erie Canal (completed 1825) cutting through the middle of Schenectady, the Mohawk & Hudson Rail Road (completed 1831) terminating at Railroad House (18), and the Schenectady & Saratoga Rail Road (completed to Saratoga Springs 1833) tunneling beneath residential blocks to the preexisting Mohawk River Bridge. The Schenectady Post Office was at that time located on Liberty Street (21). Union College (established 1795) remains where shown on the map as an independent liberal arts school. Thanks BB.