MISSION
To advance the knowledge of the postal history of the State of New York by means of educational and historical research; to acquire and disseminate through publications, exhibitions or otherwise information relative to the organization and development of post offices and postal systems in the State of New York.
American Philatelic Society Affiliate Unit #28

Visit us on Facebook

EXCELSIOR!
Our award-winning postal history journal Excelsior! is published biannually. Over the years, hundreds of postal history articles have been written by our members and published in the Excelsior! We encourage members to participate by submitting articles to our Editor-in-Chief Jeff Stage at nyspostal@gmail.com about their research and collecting interests. Click HERE to read issues from our digital archives.
THE BULLETIN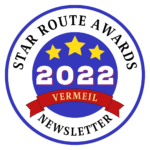 Our award-winning Society BULLETIN is published biannually; each contains the President's Message, Club Announcements, Meeting and Event information, Monographs, Philatelic Musings, etc. Members or others are solicited to contribute data of mutual interest for publication. Please contact our Editor-in-Chief Lawrence Laliberte at Lawrencelaliberte426@gmail.com. Click HERE to read issues from our extensive digital archives.